Merry Christmas!  I had so much fun creating a holiday wish list for my interest in the Quantified Self that I now want to make one for photography.  For many generations my family has been full of avid photographers.  As you may or may not know, I have a huge archive of photographs spanning several generations.  Whether by fate, by awareness, or simply by coincidence, I too am an avid photographer.  I've got a lot of great photography gear, but I'm always itching for an additional piece of equipment.  Here's a rundown of some of the latest and greatest stuff I've got on a wish list for myself.
Canon EOS-1D X - this is gonna be the new grand daddy in the lineup of Canon DSLRs.  The camera has been announced but is not yet available.  When it drops, I want one.  The camera has a lot of amazing features, and you can peruse them at any number of websites.  Here are the details that stick out to me: Dual DIGIG 5+ Image Processors (the camera is FAST at taking pictures and at processing them), 61-Point High Density Reticular Auto Focus (I wear glasses and rely on AF a lot - great AF is great for me), 3.2 Inch LCD monitor (that's HUGE!), GPS (finally, the camera can auto record GPS information in each image), Wide Range ISO Setting 100-51200 (this means the camera rocks in low light conditions).  It also records 1080p HD video, shoots 18.1 megapixel full frame images, is compatible with a large array of Canon lenses, and ... well, I could go on.  It's a rad camera.
Canon 50mm f/1.2L Lens - lately I've started doing more portrait photography. I've been improvising with my Canon 16-35mm f/2.8L, and would really like to enter the big leagues with the 50mm f/1.2L.  The super wide aperture does awesome depth-of-field stuff to portraits.  And, the fixed focal length offers a high degree of sharpness.  I look forward to tinkering with this bad boy.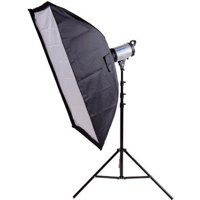 Flashpoint Monolight Kit - Now that I want to shoot more portrait photography I need a few additional pieces of equipment.  One great addition to my gear would be a set of external flashes.
Background Support System - again, a solid backdrop system would add a great deal of quality to my portrait photography.
Canon 70-200mm f/2.8L IS II Lens - I shoot a lot of concert photography.  At a concert you're usually far from the action and in a low light room.  The 70-200mm offers telephoto zoom to put you directly in the action, image stabilization to help balance your shots, and a nice f/2.8 aperture to assist in low light environments.  I would love to add this to my gear.
GigaPan Epic Pro - for years software like Photoshop has given photographers the ability to stitch multiple images into one giant picture.  The GigaPan Epic Pro is a robotic tripod head that automatically captures multiple images for stitching into one giant multi-pixel image.  This particular device is suited for DSLR cameras with big telephoto zoom lenses.  For example, I can use this tripod head with a Canon 5D and a Canon 100-400mm zoom lens to capture hundreds of images of the Nashville skyline as seen from one of the bridges in downtown Nashville.  Each picture would be shot at 400mm, so would thus only capture a small portion of the overall skyline.  Later, once the hundreds of images have all been automatically shot, software will stitch everything into one giant image.  Hello giant canvas prints of interesting skylines and landscapes.
Dynamic Perception Dolly - I like to shoot timelapse photography.  Right now I simply mount my camera on a tripod and use an intervalometer to capture a sequence of timelapse shots.  With the Dynamic Perception Dolly the camera can slowly crawl a six foot rails system over the course of a timelapse sequence, thus adding interesting movement to your timelapse.  Believe me when I tell you timelapse sequences shot on a rails system are way better than stationary sequences.
360Precision Absolute - I've been shooting 360 spherical photos for a couple of years.  A 360 spherical photo literally captures an entire 360 degree view of a particular environment.  To do so you need a special tripod head and stitching software.  Right now I shoot with a Canon 5D and a Canon 15mm Fisheye lens.  To capture a 360 degree environment I take eight pictures in a circle, one picture up, and one picture down.  Later, at my computer, I use a stitching program called PTGui to stitch all 10 images into one 360 degree spherical image.  As far as I can tell, 360Precision manufactures some of the best, most accurate, most light weight, spherical tripod heads.
Joby GorillaPod Focus - Joby makes some of the weirdest looking tripods on the market.  The legs of their tripods are bendy and adjustable and let you do stuff like wrap the tripod legs around a tree branch to stabilize your shot.  The GorillaPod Focus is the biggest tripod they offer and is capable of supporting a DSLR with a big telephoto zoom lens attached.  I've been using a GorillaPod with my point-and-shoot camera for several months now and love it.  It's now time to graduate to the bigger version.
GoPano Plus - this goes hand-in-hand with a couple other items on my list.  I've already covered 360 degree spherical photos.  What I haven't covered is 360 degree spherical video.  Yes, you heard me right, you can now capture a 360 degree environment in a video.  Using this special mirror system from GoPano you can shoot spherical video using a DSLR with video recording capabilities.  Once you've captured the video, you use special software to create an interactive and immersive video.  The final result won't actually be a 360 degree environment - you currently can't film directly up or down.  However, the resulting panoramic video is nothing short of amazing.  Imagine all the cool environments you could capture with a system like this.
Kogeto Dot and GoPano Micro - these are cases and adapters that let you capture 360 degree video with your iPhone.  They're considerably less expensive than the GoPano Plus.  Unfortunately, the video quality is less than thrilling (I view these mainly as novelties).  However, I carry my iPhone with me everywhere and would love the ability to capture panoramic video whenever I want.
Lytro - the tech world has been buzzing this year about the introduction of the Lytro camera.  The Lytro is the first camera to capture an image without having to worry about focus.  The camera specializes in capturing the light field (a completely new concept).  Later, at your computer, you choose what you want to focus on using software.  The camera has been heralded as a technological breakthrough so naturally I want one of my own.  Please?
Canon Lens Shot Glass
- I've got the Canon 24-105mm coffee mug.  Now I want the Canon Three Lens Shot Glass Set.  It's so cool!
BONUS - iZon Camera - I've tinkered with various webcams for years.  When we got our puppies I had a web cam pointing at their crate so we could see them when we weren't at home.  I've also had various webcams pointing in my backyard to check on weather and stuff when I'm out of town or away.  The other day I stumbled upon the iZON camera from Stem Innovation.  The camera is a very simple, portable design, that you can setup anywhere inside your house.  Once you've got the camera situated you connect it to your wifi network and set it up using software.  Finally, when the camera is setup and running you can use an iPhone app to login and view any of the cameras on your home wifi network.  I can't think of a better or easier way to setup a simple surveillance system.
---